This pertinent topic arose in a Club of Engineers Focus Group on Sustainable Power Generation and Energy Storage Solutions, during Gerhard Swart's presentation on the design, application and future of the Hydrogen Fuel Cell.
Here is what COE's experienced members identified as the leading contributors to the success of the new energy era, a high priority on today's global agenda and at Club of Engineers:
COE represents a network with a wealth of knowledge and experience, where shared learnings and member engagement are encouraged in an open and honest environment.
By Gerhard Swart (Sectors of Expertise: Power, Automotive, Aerospace, Defense) 
For decades the world has relied on cheap fossil fuels as the primary source of industrial, transport and domestic energy. As a result, energy efficiency has not been a major driver in the design of our energy systems. So, as we drive to lower CO2 emissions, this can be achieved equally by reducing the amount of fossil fuels burned to have a certain amount of useful energy (i.e. increasing the efficiency) or by replacing the fossil fuel with an alternative energy source.
Transitioning to alternative, often more expensive or scarce sources of energy will take many decades, so it is especially now, that the most cost-effective way of reducing CO2 emissions is to increase our energy efficiency. I expect that our future "alternative energies" will generally be more expensive than fossil fuels, so we will welcome more efficient systems.
I expect that there will be some applications where fossil fuels may remain the most suitable technology despite their emissions. The more efficient those systems are, the better.
Diversity of Energy Sources and Hybrid Solutions
By Gijsbert Bakker (Sectors of Expertise: Oil & Gas, Automotive, Aerospace)
I believe diversity among human beings is what drives innovation. Similarly, diversity among energy sources is key to developing a sustainable economy. Efficient use of energy sources depends on the location and its application. Nordic countries which have access to continuous water flows may consider hydro power, while sun rich countries can enjoy an abundance of solar energy. At the same time, we still need to consider transitionary energy sources such as natural gas to support baseload generation, while we move to alternative storage solutions such as hydrogen fuel cells and flow batteries. We shouldn't eliminate energy sources merely on the face value that it is not optimal, we need redundancy, reliability and economic viability just as much as sustainability. 
Today perhaps a solar combined battery storage solution as baseload generator may be more expensive than coal fired power station. However, by adopting a solar hybrid solution with natural gas-powered generators it may very well outperform the economics of coal power. Yes, it may still depend on a fossil fuel, being the natural gas, which is limited in supply, however once this infrastructure is in place it will be easier to pivot and replace the gas element with battery power in future when they become more cost competitive. 
Encourage diversity, consider all options, and think not only about today but also about tomorrow. 
Government Legislation, Global Alignment and Investment Support
By Ferdi Mostert (Sectors of Expertise: Oil & Gas, Mining)
The world of energy has made significant steps towards developing New Energies varying from sustainable to renewable energies. Value drivers for these sources include capital investment, commercial means to justify ROI, impact on climate change, storage and distribution and end to end decarbonation as a long-term goal. At the end of the day, all stakeholders need to monetise each step in the process, including generation, distribution, and storage. 
Considerations shaping our current reality: 
Overcoming the financial disaster left by Covid and the need to free up investment capital for the development of new energies. 
The need for governments to agree on the timelines to effectively develop new technologies. 
Large sums of capital have been invested in primary sources of energy, such as coal and fossil fuels and their refineries.
A critical part of the way forward is to secure buy-in and execution of the Paris Agreement, in order for all major countries to keep the focus on both long- and short-term programs.
In summary, leading contributors to the success of the new energy era are:  
Government policy, legislation, and subsidies for investors.
A financial model which makes competitive sense for New Energies investors, outlining how Government (Govt grants) will help with investment recovery. 
Global agreement on the development of specific technologies to drive economies of scale in the early stages of the transition. 
The inclusion of OEMs and International Oil Companies in the discussion and distribution networks, to address the most sustainable way forward. 
Clear Policies and Key Priorities by Regulators and Governments
By Gonzalo Cabrera (Sectors of Expertise: Oil & Gas, Power, Finance, Clean Energy, Renewables, Liquified Natural Gas (LNG), Green Hydrogen)
Most of the technologies needed for the energy transition, are already there awaiting improvements and commercialization. To get project financiers taking the risk in mobilising the capital in this new era, will depend on setting clear policies from regulators and governments.
The challenge that policy makers around the world face is how to accelerate the transition. Fully delivering the energy transition will require a transformation in how we view and manage the energy system. Transitioning in a few decades from a global fossil-fuel powered energy system, built-up over several decades, to one that is sustainable, will require a much greater transformation than current and planned policies envisage. The figure below to the right is a suggested full cycle planning for the global energy transformation (source IRENA).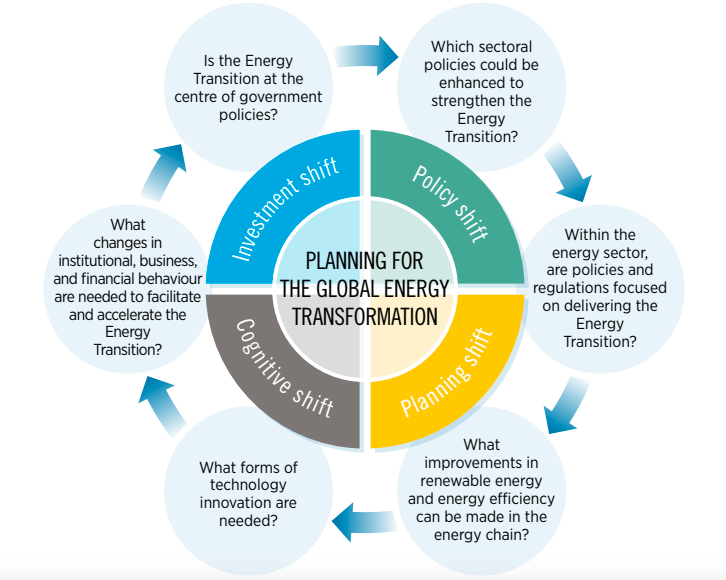 In trying to quantify the effort, the International Energy Agency (IEA)'s World Energy Outlook 2021 and Net Zero by 2050, have detailed what is needed for governments, companies, investors and citizens to fully decarbonise the energy sector and put emissions on a path in line with a temperature rise within 1.5 degrees Celsius.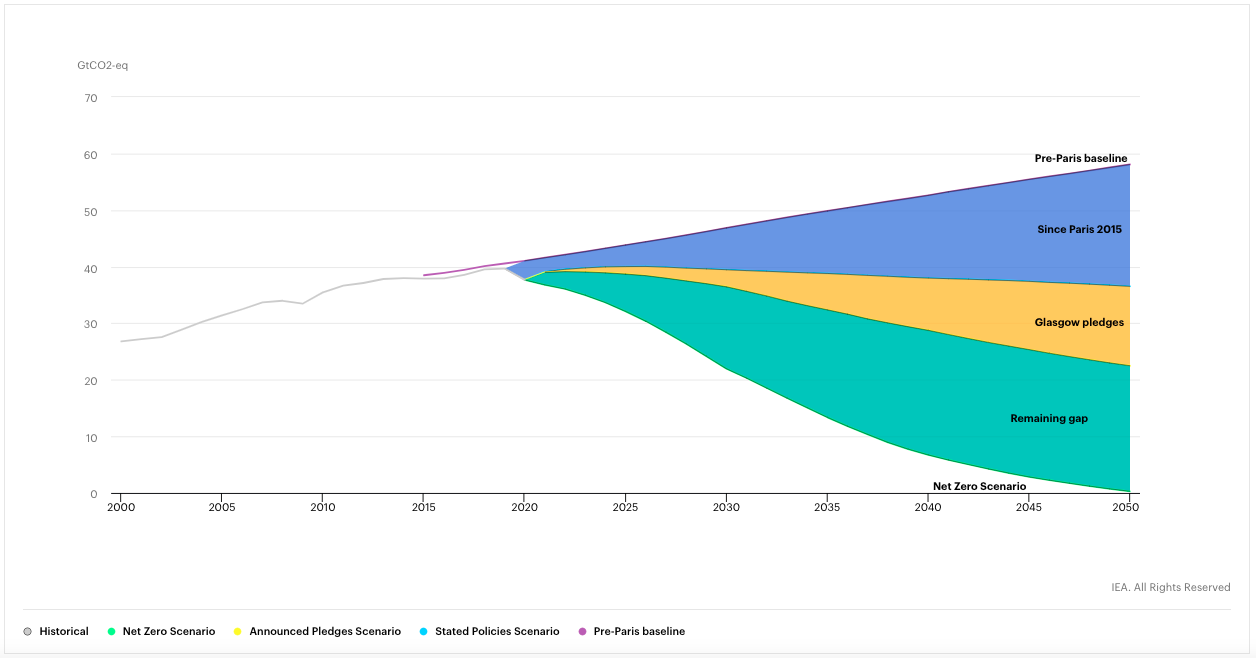 According to IEA, four key policy priorities can bridge this "remaining gap" (as shown on the graph above): 
Maximising the potential of energy efficiency

 

Focusing on clean electrification

 

Tackling methane emissions from fossil fuel operations
Boosting clean energy innovation.
Projections by S&P Global Platts Analytics, fossil fuels would shrink to roughly half of total primary energy supply in 2050, from about 77% in 2020, if the world meets the minimum Paris Agreement target of 2˚C warming, where ~20% incremental efficiency gains to 2050 would play a central role: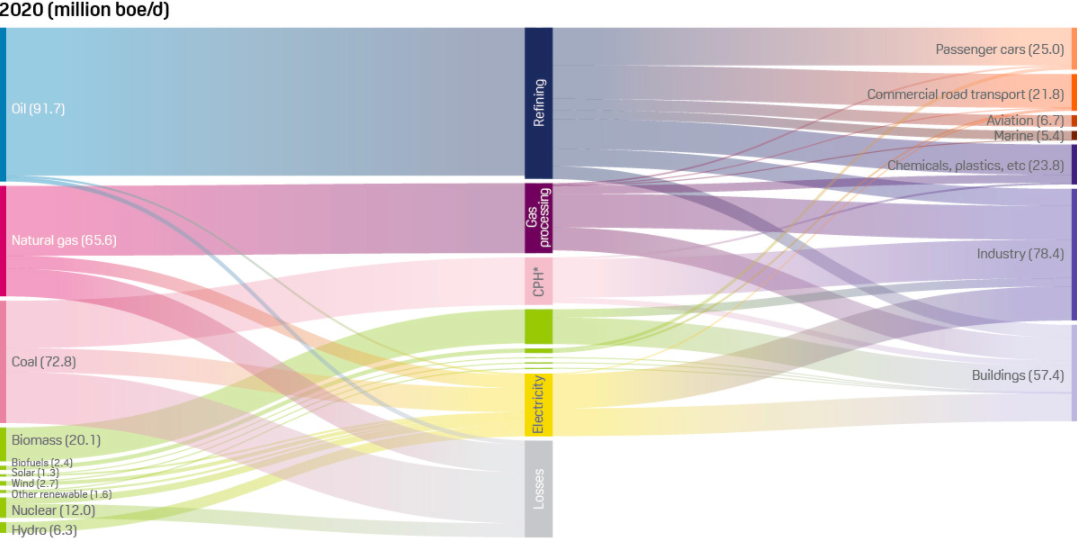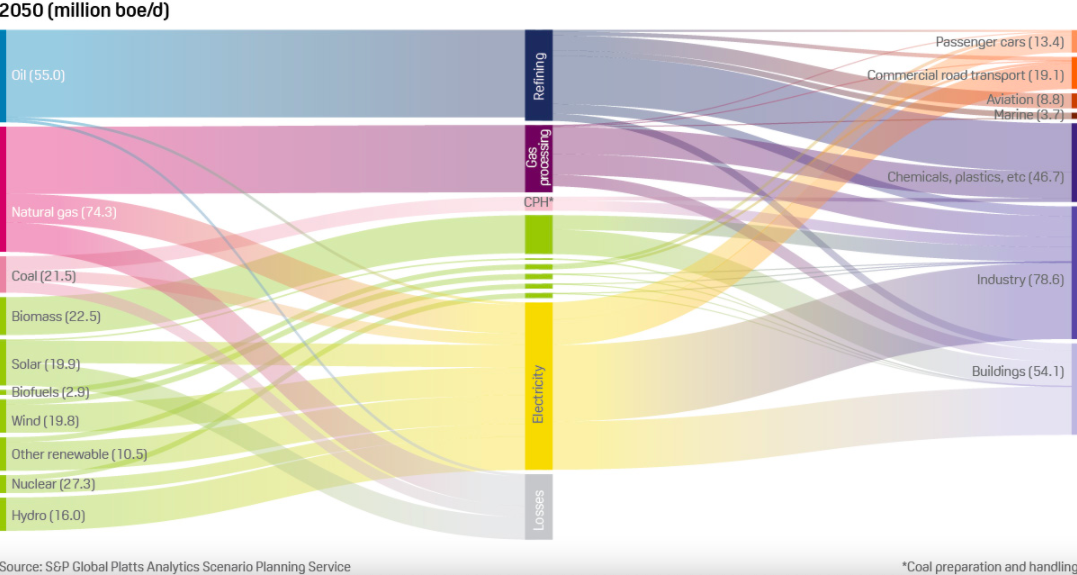 Source: S&P Global Platts Analytics Scenario Planning Service