This is a 2½-part series on Zambia giving insight into energy & climate business and investment opportunities.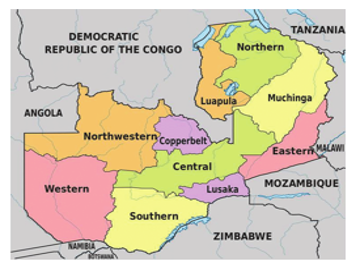 Part 1: An introduction to Zambia, the country's energy sector, its' main economic activity, mining and how it links to the energy transition.
Part 2: What the energy transition means for Zambia; 10+1 reasons why Zambia is a promising energy & climate business and investment destination. Highlighting opportunities in Zambia's energy sector and the country's investment-readiness.
Part 2.5: Unlocking business opportunities within the Zambian Energy & Climate value & supply chain.  The Zambian energy bubble is only starting to emerge and grow and so the early comers are the winners.
Part 1 : Background on Zambia as a country
At the Crossroads of Central, Southern and East Africa
Zambia is a 10-province land-linked country with 8 neighbouring Countries (Democratic Republic of the Congo to the north, Tanzania, Malawi, Mozambique, Zimbabwe, Botswana, Namibia and Angola).  Though said to be located in Southern Africa, Zambia is in effect at the crossroads of Central, Southern and East Africa. The key word here is "Land-linked" instead of "landlocked" (landlocked from what I ask?). The COMESA market alone to which we belong and are central to presents a population of over 583 million people and  a Gross Domestic Product of $805 billion (https://www.comesa.int/what-is-comesa/).
Zambia is linked on land by accessible road, energy and power and infrastructure networks providing easy access to the surrounding markets. Interconnectors exist between all neighbouring countries. Zambia is effectively connected to the Southern Africa Power Pool  – SAPP ( for multi-national energy market & trade access). Note also that, we are now in talks for gas & oil pipeline linkages as well.
Zambia has a total Area of 752,614 sq km ( Land mass: 740,724 sq km and  Water bodies: 11,890 sq km). According to the Zambia Statistics Agency (Zamstats), Zambia's population is estimated at 18, 383, 955 (2021 figure) giving us an average population density of 25 persons per square km. There are vast tracts of virgin land for setting up utility-scale solar photovoltaic (PV) farms or Concentrated Solar Thermal (CSP) plants. 
Zambia is home to some of the world's richest mines and mineral deposits (unexplored or unexploited); Zambia stands out clearly as one of the largest copper producers in Africa; Copper is what we are known for but we have other relevant "energy transition" metals, minerals and rare earths. Some of the international mining houses that are present in Zambia include Barrick and First Quantum Minerals (recently in the news for its dual investment announcement of a total of US$1.35 billion). Investing in the extractives also means investing in the energy sector and aligning to the energy transition. It is worth noting here that Zambia has the World-famous rich resources body known as the "Copper belt" that hugely runs through our Country, Zambia and our good neighbour, the Democratic Republic of Congo.
Known as Zambia in the SUN (the Tourism marketing slogan to invite tourists to come and savour the mighty mosi-oa-tunya falls whilst basking in the sun), Zambia prides itself in receiving an average of 6-8 hours per day of good sunshine translating into a potential energy output of 5.5kWh/m²/day. Zambia is not only a tourist destination but also an energy business and investment destination.
Zambia is home to the Zambezi, the largest river basin in Southern Africa, covering some 1.37 million square kilometers across eight countries serving over 40million people. Zambia also has extensive surface water resources, with a number of large perennial rivers. Some of the significant rivers include the Zambezi and the Kafue rivers.
Zambia's hydropower resource potential is estimated at 6000MW (with some 40% of it so far exploited equivalent to approx. 2400MW). Of this 6000MW potential, the small hydropower potential (<10MW) is estimated at about 500MW. There are massive opportunities to exploit Hydro that is a very clean, carbon-free, renewable energy source that happens to be most abundant here in Zambia.
Understanding Zambia's Energy Mix
According to the Zambian Department of Energy, Under the Ministry of Energy, Zambia's installed electricity generation capacity is 3 356.6MW; comprising 83% Hydro, 9% Thermal (Coal), 5% Thermal (HFO) and 3% Solar PV. The Mining sector remains the largest electricity consumer at 51% of the total generated electricity. 34% national electrification levels have been attained to-date (5% rural & 68% Urban electrification rates). Zambia has a very low consumption per capita though demand growth is projected at 5% p.a translating into 150 – 200MW per year requirement (DOE).
The country's energy sector is abuzz with planning activities and programmes that speak to both a sector reimagining and an investor readiness agenda. Energy sector key players include ZESCO, CEC, LHPC, NWEC, Zengamina, ERB, Mamba collieries, Ndola HFO, OPPPI, REA, DOE, IDC, Indeni, Tazama, etc.). The Energy sector is governed by the Energy Regulation Act No.12 of 2019 (Energy Regulation Act), the Electricity Act No.11 of 2019 (Electricity Act), the Petroleum Act chapter 435 of the Laws of Zambia (Petroleum Act) and the Rural Electrification Act No.20 of 2003 (Rural Electrification Act). 
Zambia has committed to a low carbon climate resilient pathway, having endorsed the Paris Agreement and submitted its Nationally Determined Contribution (NDC) to the United Nations Framework Convention on Climate Change (UNFCCC).  Measures such as energy efficiency, renewable energy and cleanTech are all being embraced.
We need to re-imagine the Zambian energy sector if we are to embrace the energy transition and reap serious benefits. I call this re-imagination, the '4 D-Vision' Democratisation, Decentralisation, Digitalisation & Decarbonisation).